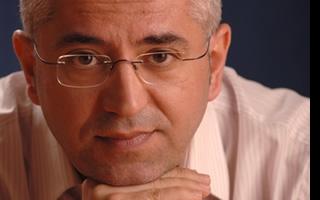 was born in 1967 in Lushnjë, Albania. In January 1991 he crossed the border into Greece on foot to escape persecution by the communist secret services. In Greece he worked as a builder, a cook and a kiosk attendant, while also studying at Athens University and completing a doctorate on the image of Albanians in the Greek press and of Greeks in the Albanian press. He is now a successful writer, playwright, broadcaster and journalist with a twice-weekly column in Ta Nea, Greece's biggest daily newspaper. His first book A Short Border Handbook was published by Portobello Books in 2010.
Narratives of fragmentation
"In the middle of this international economic hurricane, on board the "common European ship," the passengers create solitary narrations for internal culprits. United Europe also looks like the Edvard Munch painting "Anxiety" – a group of worried, trapped people crossing the bridge without self-confidence, without knowing what is waiting for them on the other side."
'What doesn't kill Europe…'
'If you write about the incident, be sure to emphasise that you were robbed in Cologne, not in Brussels,' she tells me…. – The entire mentality of the modern-day European Union is summed up in that one piece of 'advice'.
Narratives for Europe Reading Room
We invite you to read the contributions from journalists, researchers, writers who are, as we, investigating and questioning European Narratives and their making in the present and the future.