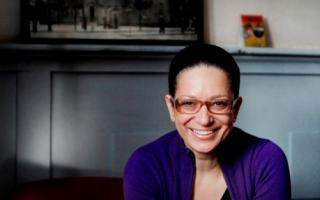 is a writer and columnist. Her first novel Nurinkurin was published in 2003, followed in 2007 by a book on identity, Sinut. She is currently working on her next book, to be published in 2012. In addition to her writing activities, Abu-Hanna was a Radio and TV-Journalist, and documentary maker. She was also the Cultural Diversity Advisor at the Finnish National Gallery's Research Department (2005-2010), a member of the Arts Council of Finland (2004-2009), and chaired its first Multicultural Board (2009).
To the moon and back
"We do a lot of travelling and the minute we land at any European airport, I sigh with relief. I feel safe and at home. Europe is in fact a very successful project. But we are disillusioned because Europe is not a paradise, because being together is complicated, and because there's always a fear for the future."
Narratives for Europe Reading Room
We invite you to read the contributions from journalists, researchers, writers who are, as we, investigating and questioning European Narratives and their making in the present and the future.